Welcome to schoolofguitar.com
Sponsored by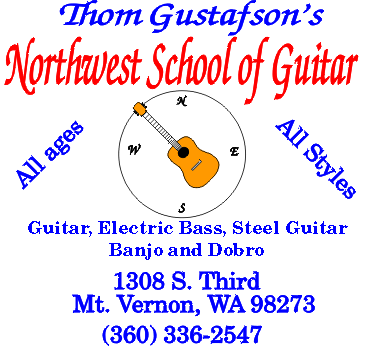 New Practice Aid Program Download Page
Click here for an E note to tune your first string
Greetings and welcome!
I've been fortunate enough to be able pursue a career as a professional musician for what is soon to be (a bit shockingly for me I might add) 35+ years. My love of music started as a youngster taking piano lessons. I took a lesson every week and got a gold star or a little model to put together if I could perform my assigned lesson. I performed at one recital and then decided, at age 8, that it would be more prudent to invest my time in a more worthwhile endeavor...namely professional athletics. OK, ok...we don't always make the right choices.
I always loved to listen to music, though. For several years I had a small, egg-shaped transistor radio that I would put under my pillow and sleep to every night. I also was playing every sport I could possibly find time for...baseball, football, basketball, track, golf, tennis...if you could get a score for doing something, I'd try it.
In 1964 when Beatlemania and the English invasion turned pop music upside down, two things became lucidly clear:
I ran and jumped like a pigeon-toed white guy.

I couldn't get music out of my head. I no longer needed a radio...I could listen to songs over and over in my mind. I had also found an old, cracked Wards Airline archtop acoustic guitar in the attic. It didn't have any strings, but we had a lot of fishing tackle and I used six different strengths of fishing line to make strings for it. I'd like to say I was able to play something on it, but usually I'd just stand in front of the mirror and pretend.
Christmas 1964, I was amazed to find a gift under the tree that I didn't believe my family could afford...a shiny, candy apple red and white Kapa electric guitar and a Fender Princeton Reverb Amp. First came the blisters...I played way too much. I also got a few lessons from my now old friend Ernie Tyree. I remember just turning off the lights in my room and gazing admiringly at the amazing, deep red pilot light...I think a couple of times I almost had an out of body experience.
At any rate, the rest is history (if you want to know more about "history", you can download and read my brochure [259k]). I've enjoyed a rich life pursuing my passion, making music. I still perform with the Cascade Ramblers (electric guitar and pedal steel) and Birdsview Bluegrass (banjo, dobro and acoustic guitar). I've also been fortunate to be able to earn a living as a guitar, bass, steel guitar, banjo and dobro instructor in the states of Colorado and Washington. In 1980, I began teaching in Mount Vernon and Oak Harbor in Washington state and eventually named my business the "Northwest School of Guitar".
I have found teaching guitar technique and musicianship to be a challenging and rewarding occupation. I believe a good teacher should also be a good student by looking for more effective ways to teach and explain both the craft and the art of guitar. I also believe a good teacher should be able to communicate the joy that making music can bring to both the musician and their audience.
My immediate goal for this web site is to provide a valuable, fast, and free tool for aspiring guitarists to use at their leisure. I'm basically going to try to keep adding stuff until the day I drop (I'm not planning on that occurring in the immediate future) so if you don't see what you're looking for here, come back later or send me some email.
Here's a few things you can find here now:
Thanks again for stopping by, may you be vibrant with the cosmic music within us all.